When Your Life Becomes an Open Book
July 20, 2018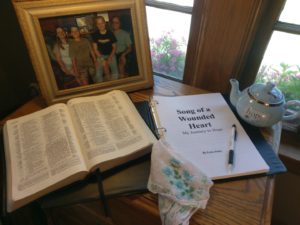 Words escape me. It's been such a long journey. A lifetime really. My heart is pounding with both anticipation and a mixture of fear and joy.
The book is finished.
The contracts are signed. Soon it will become a reality. My life will become an open book to all who wish to open it.
I started trying to write it down over four years ago. I didn't know how difficult it would be to do so. Often words failed me, and sometimes I simply quit. When the reviews came back to rewrite it yet again, I almost lost hope.
But hope is why I wrote it. So, I tried again.
You might think I'm crazy. Why would I put my heart on the page?
Because there are many people who are suffering in this world, and I want them to know there's hope. If I can find it, I know they can too.
So, with a grateful heart and tears in my eyes, I announce I have signed a contract with Morgan James Publishing. May God use it to bring hope, in whatever means He chooses. I know He will because I trust Him completely.
Song of a Wounded Heart tells the story of how I discovered God's hope, when it seemed I had no reason left to live. It's written for His glory, and to bring you hope and joy.
---
Comments