Well-Worn Path
October 28, 2022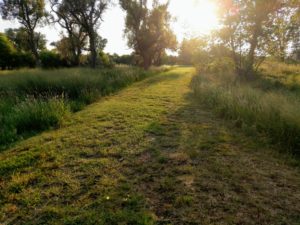 I read a book recently which describes our life with Jesus as an adventure through a familiar forest with our old, trusted walking stick. Sometimes we journey on the well-worn, well-known path. Other times we strike out to find a new adventure. And still other times we sit by the stream and remember treasured moments from past trips. Through it all, the walking stick points out things of interest, holds our hand, and catches us when we nearly fall.
Now, the image is etched in my mind. I think it was God's gift to my soul this season.
It's November. I've walked this part of the journey 18 times now. I dread it every time. But it's a familiar, well-worn path. It leads down into the valley of the shadow of death, but it also leads me beside still waters. His staff comforts me and holds me up. Sometimes I stay awhile and remember. Other times I try to go through the darkness of the forest too quickly and miss the comfort of his hand in mine.
The Lord is my shepherd. I lack nothing. He makes me lie down in green pastures, he leads me beside quiet waters, he refreshes my soul. He guides me along the right paths for his name's sake. Even though I walk through the darkest valley, I will fear no evil, for you are with me; your rod and your staff, they comfort me. Psalm 23:1-4
I've been on many adventures with the Lord during these last 18 years, and I treasure each one. I've seen God do amazing things.
But I will always return to this well-worn path of grief for as long as I live on this earth. Why? Because of my deep love for J., Janessa and Jayden. I long to touch their faces, hear their voices, see life through their eyes.
Though tears stream down my face, my grief is not without hope.
Because…
These paths through the forest lead me home. All of them – the adventures, the memories, the grief. They are all part of the life God carved out for me. He will always hold my hand. I will not lay down his walking stick. I'll follow him another 18, or 28 or 38 years or more.
Surely your goodness and love will follow me all the days of my life, and I will dwell in the house of the Lord forever. Psalm 23:6
---
Comments