Unexpectedly Broken
May 3, 2018
I flitted from room to room in my house, focused on my list of things to do, but distracted by both my phone and the clock. "I can't seem to finish anything today," I moaned to myself.
Suddenly a loud pop interrupted my thoughts. I froze in place. "What in the world was that?" I said aloud to the empty house.
The sound reminded me of the noise the siding on my Mom's house makes when the sun hits it in the morning. The rising heat causes it to expand and pop.
My brick house makes no such sound.
At a loss for the cause, I shrugged my shoulders and went back to my list.
A few hours later, my water glass ran dry. The fresh lime I squeezed into it this morning had refreshed me, so I decided to make myself a refill from the second half of the lime I left on a plate in the kitchen.
That's when I saw it.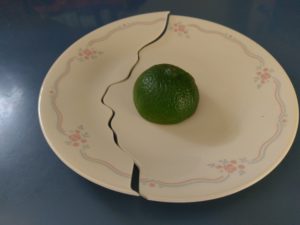 The 30-year-old plate simply had broken in two, randomly, without warning, while sitting on the counter. No heat change. Nothing dropped on it. Not even any indication of a defect.
I've thought about that silly plate for days. So many things in life are like that plate. They happen without warning. Lives are broken into pieces while no one is watching. We cover our defects well, until one day, we just crack. Observers have no idea why. Then we feel useless, destined only for the trash.
God doesn't agree.
He knows our hidden faults. He sees every tear that falls in secret. He's aware of the conditions which change in our lives, and every force that comes upon us. Nothing surprises Him. No circumstances overwhelm Him. But no one is ever too broken to be useless in His eyes.
I can't fix this plate.
But God can mend my broken life. That's why He sent Jesus.
"The Spirit of the Sovereign Lord is on me,
because the Lord has anointed me
to proclaim good news to the poor.
He has sent me to bind up the brokenhearted,
to proclaim freedom for the captives
and release from darkness for the prisoners,
to proclaim the year of the Lord's favor
and the day of vengeance of our God,
to comfort all who mourn,
and provide for those who grieve in Zion—
to bestow on them a crown of beauty
instead of ashes,
the oil of joy
instead of mourning,
and a garment of praise
instead of a spirit of despair.
They will be called oaks of righteousness,
a planting of the Lord
for the display of his splendor."
(Isaiah 61:1-3; quoted by Jesus to describe himself in Luke 4:16-21)
---
Comments