Genesis 3 – The First Sin
February 19, 2019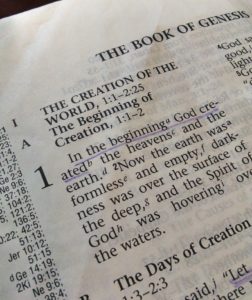 "Father in heaven, as we read your words in the Bible today, will you point out to us any sin in our lives – or anything we believe about you that is not truth? Thank you Father. In Jesus' name I pray, amen."
Please take a few moments to read Genesis 3.
In a week's time, all of the heavens were created. God and man walked together in the Garden of Eden in a trust-filled relationship. Then in a day's time, it all simply fell apart. It started with a lie.
Satan is crafty and cruel. From the very beginning of time, he has twisted God's words. Why did Satan care if there was a tree whose fruit they were not to eat? He didn't. His only purpose was to raise questions in Adam and Eve's minds that God was not fair, and perhaps was even holding out on them.
They knew what good was. God had said everything was "very good," (1:31). What they wanted to know about was evil. How do you learn about evil? You experience it.
Before knowing about evil, Adam and Eve had been completely exposed before their Creator and each other, but the moment they understood evil, they covered themselves. Suddenly vulnerable to be hurt, they no longer felt safe. It was no longer the good they had always enjoyed. They began to hurt each other almost immediately.
And so the blame games began.
God found them in the garden. It's not like He hadn't been watching. "Have you eaten from the tree that I commanded you not to eat from?" God asked (3:11).
Adam tried to blame God! "The woman YOU PUT HERE WITH ME gave me some fruit," (3:12). He neglected to say he had been standing right beside her during the whole snake/woman episode. (3:6). Adam simply chose the desires of his wife over obeying God. He should have stopped her from eating the fruit, but not wanting to disappoint her, he ate it too. She was more important to him than God. Then, instead of admitting it, he simply blamed God for ever giving her to him in the first place. So much for loving your wife.
The woman was no better. "What is this you have done?" God said. Eve blamed the snake. "The serpent deceived me, and I ate," (3:13). The desire to try something forbidden got the best of her. She bought into the lie that it would give her wisdom (3:6), but "knowing good from evil" is not the same as wisdom. Wisdom comes when you recognize evil and choose good. She not only didn't choose good, she talked someone into doing evil with her. So much for loving your husband.
With the first sin came the first death.
God explained to them the meaning of death as He made garments of the skin of an animal to provide for their clothing (3:21). It was the beginning of the sacrificial system. But it wasn't just the beginning of death. Right in the middle of the curse God gives the serpent, we see the beginning of the story of hope.
Remember when God is speaking to the serpent, He's talking to Satan himself.
"I will put enmity between you (Satan) and the woman, and between your offspring and hers (remember Jesus was born of a virgin); he (Jesus) will crush your head and you will strike his heel." It's a foreshadowing of Jesus! All of hell will seek to destroy Jesus (the only man born solely of woman). Satan will strike Jesus' heel (like a true snake) on the cross, and it will seem like Satan has won…until Jesus rose from the dead and crushed Satan's power completely!! (Hebrews 2:14-17)
Questions for thought:
1) For discussion: What lies does Satan want us to believe about God?
2) For you: Who are you blaming for your own sin?
---
Comments