Teach Me to Live
January 11, 2018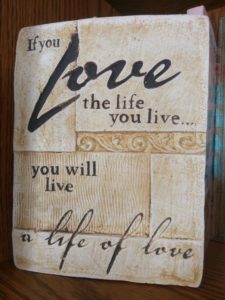 Yesterday, the sun shone brightly, and the temperatures gave no reason for a coat. While I drove from place to place checking things off my errand list, my favorite Christian station played on the radio. I listened to Joni Eareckson Tada tell her own tragic story – a diving accident which left her paralyzed as a young adult. Even though fifty years have gone by, the emotion in her voice made it feel like yesterday. She described her frustration and despair when she realized she would be a quadriplegic for the rest of her life. One sentence struck deep into my soul.
"God, if I can't die, teach me to live."
I remember that same decision in my life.
Three years after the accident, I appeared functional and content to others. Many complimented me on my strength. Few knew the deep despair which clung to my heart. In some ways, not even me.
The words of an 8-year-old child to her mother broke through my darkness. When she learned my husband and children were killed in a car accident, she asked her mom, "Did she say thank you?"
Stunned, I privately said to her mother, "I cannot say thank you for the accident! What in the world is she thinking?!"
Her Momma calmly and quietly replied, "She wants to know if you are thankful to be alive."
I didn't know I was capable of the anger which exploded from my lips. No, I certainly was not thankful, I was furious.
The following days crept by. I woodenly continued my job at a local church. Then a woman walked into my office for help. In a few moments, I realized she wanted to take her own life. Frustrated with her, I began to beg her to live. Her children and family needed her. As I knelt to pray for her, I found myself praying for both of us.
Finally, the light bulb came on.
God gave me life. It hurts Him if I don't want it. To not want life is the same as trying to take my own life, from God's point of view. I left work, and fell to my knees on my bedroom floor. Honest, gut-wrenching words spilled out of my mouth in recognition of the problem, "God, I don't feel thankful at all, but I choose to be thankful for life. It's all I've got. Work with it."
That was ten years ago. God answered my prayer. He brought healing to my heart bit by bit. The desire to live slowly grew within me like a tiny acorn which takes years to become a mighty oak. I still long for heaven, but not with disdain for earth. There are days I must stop to remember the commitment I made, though. On those days, God always reminds me of his promise.
"I came that they might have life, and have it abundantly." John 10:10
Joni and I have found that abundant life. I hope you will too.
---
Comments