Some Dreams Come True
June 4, 2019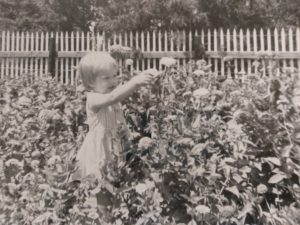 When I was a child, I thought all my dreams would come true. My life was simple and carefree. My dreams were sweet. I snuggled baby kittens, played under the trees in the backyard, and rode in the back of the pickup while my dad checked the cows. In the summers, I helped pick strawberries and snap green beans. Mom taught me how to bake bread and Dad taught me how to find the grains in a head of wheat by rubbing it between the palms of my hands.
When I got old enough, the big yellow school bus picked me up for school in my front yard. The neighborhood children and I talked and laughed on the long rides to school. Sometimes the bus driver even planned parties for us "country kids" after the "city kids" were all dropped off in town. Occasionally, a friend would ride the bus home with me so she could play for the evening or spend the night on the farm.
The most stressful part of life came when Dad said it was time to butcher a few hens. I hated watching them flop around the yard! I can still smell the stink as I learned to dip them in hot water before pulling out their wet feathers. Then Mom and I would cut them up, disposing of the inedible inside parts. Occasionally, we would find an egg inside with a soft shell. That always fascinated me. It was hard, smelly work, but very worth the effort – because my oh my, I loved my Mom's fried chicken.
Laying on my back in the grass with my belly full, I dreamed of the future. I wanted to marry and have children – give my own family the peaceful, happy life Mom and Dad gave me.
My dream came true.
Of course, life wasn't exactly like I envisioned it. My marriage didn't take me to life on the farm like it did for my Momma. Instead, God called my husband, J. L., to be a pastor. So, our lives centered around the church where I loved being a pastor's wife.
But being a Mom exceeded my dreams.
Their snuggles warmed my soul better than any kitten. I beamed with joy as I heard them say their first words and watched their first steps. I laughed until I cried at their antics, and I cried real tears when they got hurt. My heart swelled with pride as they succeeded in school. I loved it when their friends walked home with them to spend the night. Their laughter kept me awake, but it made me smile.
It was harder than I thought it would be. Their little minds were so impressionable, and their little personalities so much like mine. I discovered my own weaknesses in them and struggled to help them overcome those same faults. Sometimes storms of all kinds brought nightmares instead of dreams. Together we fought to protect our children from the meanness of life.
We read books together every night, made tents out of blankets in the living room and played in the park down the street. We had pet bunnies to snuggle. They rode on the back of the motorcycle with their Dad for an adventure. I taught them how to bake cookies and their Dad taught them how to fish. We played cards and board games together and took lots of family vacations.
Nothing brought me greater joy than watching them believe in God or listening to them talk about Him.
Laying on my back on the trampoline (because I never could jump on the thing lol), I dreamed of the future with them. What would they do, who would they marry, what memories would they form with their children?
This time, the dream didn't come true.
I buried my children and my husband on the same day in November 2004.
Occasionally, people ask me what I think they would have been – what career would they have taken, would they have children by now? I think about it sometimes. Janessa would have turned 29 in October, and Jayden just turned 26. Sometimes I see a little child that reminds me of one of them and I imagine what their children would have looked like.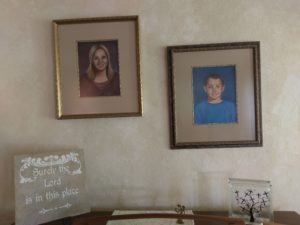 An artist friend of mine painted "senior pictures" for me of my children so I could imagine what they might have looked like as they graduated from high school. I love them. Their portraits are displayed over my piano in my living room.
But honestly, mostly I imagine what their life is like now – in the place where they are – in heaven. I must dream about it because I haven't seen it for myself. But it's real, not "what if." It gives me a sense of hope.
Perhaps Janessa is snuggling a newborn who just arrived, singing a soft lullaby as she falls asleep in her arms. Jayden may be teaching a group of boys how to be goalie of the heavenly soccer team. J. L. surely must be building something – maybe he's working on the house he always said he would build for me someday.
I don't know if any of those things happen in heaven, but this I know: They are praising their God in a place without tears, pain or sorrow of any kind. (Revelation 21:4) As soon as they believed, Jesus began preparing the place for them, just like He's preparing a place for me. (John 14:1-6) The way to heaven is simple: confession of sin, and confession of faith. (I John 1:9, Romans 10:9-10) But it's a life long journey where. . .
. . . the reality will far outweigh my dreams.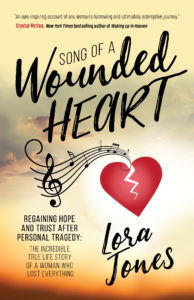 If you would like to read more of my story, Song of a Wounded Heart releases this month. You can find it at your favorite online bookstore.
Follow this link to find it on Barnes & Noble.
---
Comments