Red Carpet Jitters
July 10, 2019
Nothing has prepared me for this.
I'm just a country girl, with roots in the wheat field. The big city is not my comfort zone – nor is a Red Carpet Event. And yet, that's where I find myself this week. My publishing company brings together their newly released authors each quarter to celebrate the release of their new books. The books then appear in their new catalog, and hopefully bookstores across the country will pick up the books for their shelves.
Each of us will have our few minutes of glory on the red carpet, telling the world about the book in our hands.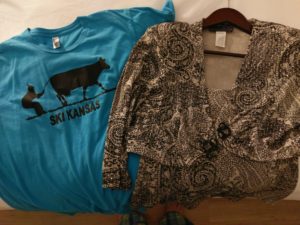 I've been preparing myself for it – and yet trying to ignore the fact that it was coming. Then suddenly, the plane ticket declared it was time to go without regard to my feelings about it. I packed the suitcase with glam and glitter – and with one of my favorite fun Kansas t-shirts. Which shall I wear? LOL
When I got to the airport, I received an unexpected phone call from a friend. She asked me one question: Which one of your family members would have enjoyed the red carpet?
Ah, Janessa would have. In fact, she wanted to be a recording artist. Maybe one day I would have attended a red carpet day for her!
The image helped tremendously. I shall don my glitter tomorrow and walk this red carpet thinking about my girl, picturing her smile from heaven, and wishing she was here to fix my hair. Then I'll come back to my motel room and put on my comfy t-shirt and be me. LOL
Register for the Event
If you would like to watch the event live from Nashville, register here. Registering will also qualify you to receive some giveaways from the authors. The instructions will be emailed to you from Morgan James Publishing after the event.
Enter the Drawing
With this event, I will be hosting a drawing for an autographed copy of my book. To register for the drawing, sign up for my newsletter (scroll to the bottom of the page) and message me that you have watched the Red Carpet Facebook Event. The event will be live at 2:00 p.m. Central time, but will be recorded. Both count for the drawing!
---
Comments