Nothing is Impossible for God
January 14, 2017
I've had some amazing conversations lately.  I'm working on writing my autobiography.  As I talk to people who have impacted my life, or have walked with me through our shared circumstances, memories of what God has done have overwhelmed me.  Truly, nothing is impossible for God.
One of those memories is of a man who was in dire need of a safe place to live.  His home was simply falling down around him.  Adult Protective Services (APS) was going to have to remove him for his own safety, but they didn't want to do so.  He had lived there since childhood and he didn't want to leave.  He was 82, and his family blood line indicated he could easily live another 10 years, at least.  There were at least two people in the APS who began to pray for help to come.
J. L., my husband, found out about the situation and took the problem to the Lord and to our church. In a bold move, that really made no logical sense, our church volunteered to fix the man's house. It felt like God wanted us to do something, so we did.  We didn't have the money, and we didn't have all the skills we needed either.  But God began to move mountains to provide for us.
Those who had been praying were amazed.  I talked with one of them this week.  She said, "…..for the first time in my life I knew that nothing was impossible with God.  Oh I know I knew it, but to know it to the core of my being was the most humbling experience I have ever witnessed."
It is an amazing thing to watch God work on someone's behalf simply because we ask.
And then my husband suddenly died.  He was the pastor of our little church, and maybe some thought it would stop the project entirely.  It didn't.  Instead, the project gave us purpose, something to do for the Lord with our grief.  God had prepared the way ahead of us.
When we saw that there was even more damage than we first realized, we decided to simply rebuild the entire house.  It truly was a miracle.  God brought together all of the money, and all of the expertise needed to see the house built.  Why?  Because God so loves the world…..He made a way for an older man who needed a home, and He made a way for a church to have focus and vision in the face of loss.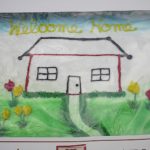 Nothing is impossible for God.
Now it's your turn.  When did YOU realized for the first time that nothing is impossible for God?  Tell us your story by commenting below, (or on my blog at www.lorajones.org.)
---
Comments