My Dream for 2019
January 4, 2019
It's the beginning of the year again – the time when everyone pauses to consider their dream or goals for the new year. I don't normally make any resolutions, but I often consider it a fresh beginning. This year is no exception.
There are simple things I need to begin again – like deep cleaning my house or being better at exercising. Oh my. I'm not particularly good at either thing. But those things are not what's really on my mind. Instead, it's things that seem to make this year feel very different from any other.
My book, "Song of a Wounded Heart," will release in 2019. It's my story – my faith journey chronicled from the loss of my family until today. I have to admit that writing it has been one of the hardest things I've ever done. It feels like I have cut open my heart and laid it on the page.
Why did I do it?
Because I want you to know my God.   I ache for you to believe God cares for you, regardless of what happened in your life, or the choices you made with your pain. I believe God is real, and that the Bible is truth. That's what I want to share with you.
So, my dream for 2019 isn't about the sale of books or the notoriety of becoming an author. After all, I didn't ever set out to do that in the first place! I want my life, my book and my speaking to lead you to a much more important book: The Bible. Because there, you will find God.
I want to do that by telling the stories of the Biblical characters in a way that makes them lift off the page and come to life.  Together we can watch them wrestle with their faith in God and see His responses to their actions. We will learn about the character of God in the process. That will help us learn how to interact with God today!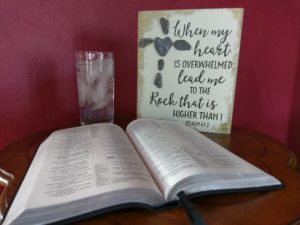 It's my dream for 2019 and my speaking theme for the coming year. I call it "Come to the Well." In the scriptures, you will find a deep spring of water that will quench the thirst of your soul.
You can contact me here: www.lorajones.org and you can see my current and previous events on my website as well.
Let's drink from the well together.
---
Comments