Momma and her cup
September 19, 2017
The farmhouse sits silent without Momma. It's a long process – going through a lifetime of her things in my childhood home. Each item, each piece of paper, full of meaning and memories. The rest of my life and responsibilities have been pushed aside as my heart focuses on the things that represent stories of my Momma.
Several years ago, Momma and I looked through the china cabinet together. I asked her to tell me the stories of each item, while I jotted down notes on a little blue notepad. When we finished, I tucked the small notebook into a special place. Someday I knew I would need it.
That day came in 2017.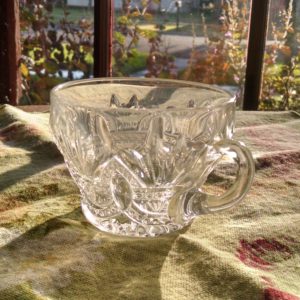 With all of us gathered together, we read the words and took turns choosing meaningful pieces to take to our own homes. I chose several things, but the most tender to me is a clear crystal teacup.
My own handwriting told the story:
One punch cup that doesn't match the rest, given to Mom by Mrs. Knier who was the one who told Mom Bible stories and took her to VBS. Special to Mom – although it probably just came in an oatmeal box.
A simple punch cup tells the story of two faithful women.
"Love the Lord your God with all your heart and with all your soul and with all your strength. These commandments that I give you today are to be on your hearts. Impress them on your children. Talk about them when you sit at home and when you walk along the road, when you lie down and when you get up. Tie them as symbols on your hands and bind them on your foreheads. Write them on the doorframes of your houses and on your gates." Deuteronomy 6:5-9
Mrs. Knier lived her life following this verse. She probably never knew the impact she made upon the generations in my family, but I know the moments she gave to a little neighborhood girl changed my life entirely. Momma found Jesus because of Mrs. Knier. I found Jesus because of Momma.
I hold in my hands a symbol of my own Christian heritage.  The little oatmeal box cup, treasured for decades in my Momma's china cabinet, will now set in mine, reminding me that speaking the name of Jesus matters for an eternity.
---
Comments