Hope in a Chaotic World
July 8, 2020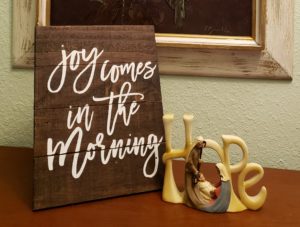 Hope.
The definition for hope in the dictionary reads "a feeling of expectation and desire for a certain thing to happen." Let's divide that definition in half.
"desire for a certain thing to happen"
There's lots of things which I desire to happen. I hope to lose the weight I gained in quarantine! I think we can all agree that we hope that the Covid virus would come to an end. You may be hoping for a raise, or a better job, or to win the lottery. These are things we want to happen, whether or not we think there's a fair possibility of it actually happening.
"a feeling of expectation"
Expectation adds an entirely different aspect to desire. To say I expect to get a raise means I may not know when it will be finalized, but I'm sure it's coming. If I expect to lose weight, then I'm actually doing something that should produce those desired results in the near future.
When that feeling of expectation begins to die, we lose hope for the future. I've seen that look in the eyes of people lately. Conflicting information in the media leaves us feeling like we don't know the truth anymore. Without intervention, hopelessness leads to despair. Proverbs 13:12 says, "Hope deferred makes the heart sick, but a longing fulfilled is a tree of life."
I have good news.
We can place our hope in a God who never changes, always loves us, and faithfully keeps His promises. He promised to forgive us when we turn away from wrong, to never leave us, and to prepare a place in heaven for us. I am placing my trust in God because He is the only one in control of the chaos around me. In fact, when I spend time with God in prayer, and read the Bible, I find myself filling back up with peace, hope, and even joy.
If you aren't sure where to start, I'd love for you to use J.'s Bible Reading Plan or use my "Beginnings" Bible study from the book of Genesis to get you started. Start with this link and then continue through the archives to all 19 lessons. (They are posted in date order, so you will have to go to the end and work backwards.) Feel free to reach out to me with your questions. I'd love to encourage you in your journey.
So today, "May the God of hope fill you with all joy and peace as you trust in him, so that you may overflow with hope by the power of the Holy Spirit." (Romans 15:13)
There's hope!
---
Comments