Genesis 4 – Cain & Abel
February 27, 2019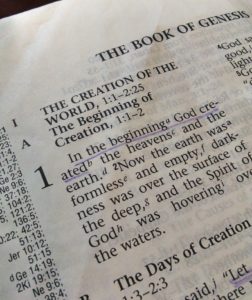 "Father, open my heart to hear your corrections of my actions and attitudes. And please, don't let me pass on my disobedience to those who call me mom. I know they will learn more by what I do than what I say. In Jesus' name I pray, Amen."
Now, please read Genesis Chapter 4.
In time, Adam and Eve began having children. Genesis Chapter 4 tells us about two of their grown sons. Abel is a shepherd, and a follower of God. Cain is a farmer who doesn't like rules. Adam and Eve's struggle with obeying God continues in their son.
When the time came for them to make an offering to the Lord, Abel brought fat portions from some of the firstborn of his flock, and Cain brought some of the fruits of his labor in the soil. Genesis 4:4-5 tells us God was pleased with Abel's offering, but not with Cain's. Although it is not specified in these verses the specific reason why, we can get several clues from other verses of Scripture.
The Bible explains itself the more you read it.
Most scholars believe Moses was the author of the first five books of the Bible, including Genesis. Thousands of years after Adam, he compiled the oral and written history of the Israelites for us, including the laws God had taught the people.  In one of Moses' books, Leviticus 17:11 says, "For the life of a creature is in the blood, and I have given it to you to make atonement for yourselves on the altar; it is the blood that makes atonement for one's life."
In the New Testament, Hebrews 9:22 clearly says, "Without the shedding of blood there is no forgiveness." Adam and Eve witnessed this when God killed an animal to provide the skins for their clothing following their sin in Genesis 3. God taught them what He required. Their offering for forgiveness was to include the shedding of an animal's blood. It wasn't a mystery to Cain what God wanted.
Although he knew what to do, it only made him angry, not repentant (feeling sorry for what he did). God asked him why he was angry: "If you do what is right, will you not be accepted? But if you do not do what is right, sin is crouching at your door; it desires to have you, but you must master it." (Genesis 4:7).
With all of his heart, Cain wanted his own way. He did not want to follow God's rules. That left him with only two choices. He could walk away from God in his anger, or he could admit his sin, and do what was right. He could choose to bring the sacrifice for forgiveness of sin by trading his brother some of his produce for a lamb.
Anger or repentance, what would he choose?
When sin gives birth to anger, it becomes your ruler. It controls your thoughts. That's what God was trying to tell Cain. He needed to be in control, to master the sin, not let it master him. Cain did not heed the warning. Instead, he chose to kill Abel. "Why did he murder him? Because his own actions were evil and his brother's were righteous." (I John 3:12).
Disobedience led to anger; anger led to murder; it all led to punishment. Cain was separated from God's presence, just as his mother and father had been. Yet, even then, God made a way for repentance. He did not kill Cain, nor allow others to kill him.
God always allows a way back, if we are willing to take it.
That thread of hope continues to weave through the pages of this story, as Eve gives birth to yet another son, Seth. Seth's family bloodline will lead us to Jesus (Luke 3:38 and Matthew 1).
Questions for thought:
1) For discussion: What's the best way to teach a child about repentance (admitting they are wrong)? Why is it so hard for us to repent?
2) For contemplation: Check your anger. Are you angry with someone because they are right and you are wrong?
---
Comments