Genesis 10-11 – God's Creative Discipline
March 26, 2019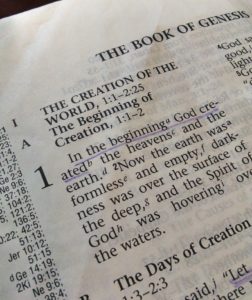 Pause for a moment and ask God to speak to you as you read today. Then read Chapters 10 and 11 of Genesis.
Once more, time goes by as people begin to multiply in number.  Genesis chapter 10 chronicles the generations coming from Noah.  The more you study the Bible, the more you will recognize some of these people groups and places from the chapters and books to come.  For the purposes of our study, however, we will not pause to look at those details.  Instead, we will continue with the overall story line of the beginnings of God's work among his created people.
The beginning of chapter 11 answers the question we ended with last week:  Would they obey this time?  Would they be fruitful and multiply and spread across the whole earth, as God commanded them in Genesis 9:1?
No, they won't.  They determine to build a "….city, with a tower that reaches to the heavens, so that we may make a name for ourselves and not be scattered over the face of the whole earth" (11:4).  God's simple command told them to spread out, and take care of the whole earth.  They were to care for the land, not wall themselves into cities.  They were to worship God, not make a name for themselves.
God's words in verse 6 are puzzling.  "If as one people speaking the same language, they have begun to do this, then nothing they plan to do will be impossible for them."  At first reading, it seems as if God is worried about them overpowering Him.  Instead, I believe God is reflecting upon the wickedness which took over the earth in Noah's day.  Working together, people can entice each other to great evil.  God wanted them to spread across the land, not only to care for it, but because creation itself speaks to God's character.  The more people cared for the land, the more they would experience God.
When we trust in God, we have no need to point to ourselves. When we trust in God, we will obey Him. In fact, as we obey Him, we can trust Him to provide for our needs, or even rescue us as He did Noah.  Likewise, when we don't obey Him, He will stop us…with His own creative discipline.
God reached down from heaven and stopped the people of the world in a very unique way.  He changed their speech.  Suddenly, they could not communicate with each other.  In a massive game of trial and error, people found others who spoke the same language they did.  Those people gathered together and moved off to live in community.  The effect was to force people to do exactly what He had commanded them to do in the first place:  to fill the whole earth.
"Father, I know that sometimes I'm stubborn and disobedient to you. Please stop me when I can't stop myself, and give me the will to obey. I want to serve you always. In Jesus' name I pray, Amen."
God's creative discipline slowed the spread of evil.  He kept His promise not to destroy them.  His love kept Him from giving up.  Instead, He actually helped them obey!  Meanwhile, He watched for the family who chose to worship and obey Him.
The chapter continues by listing the descendants of Shem, Noah's son.  Notice how the length of their lives decreases as time goes on.  The consequences of the flood continue to effect the people.  The absence of the protective layer of water above them means they can no longer live the long, fruitful lives of their ancestors.
Why did He list Shem's descendants for us?  Because his bloodline will eventually lead us to Christ.   God will keep His promise to Eve.  Satan will be defeated.  The chapter ends with a seed of hope.  Abram has now been born.  If you continue with me into the next study, we will see Abram become the ancestral father of Israel, whose blood line will lead us to Jesus.
Questions for thought:
In what ways does God continue to prove His existence through nature today?
What creative methods has God used to stop you when you were heading away from Him?
What have you learned from God this last 8 weeks as you studied the Beginnings of Creation and God's relationship with us?
---
Comments