Genesis 1 – Creation Bible Study
February 5, 2019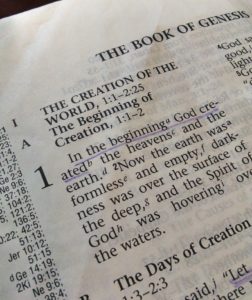 Thank you for joining me for "Beginnings," a Bible Study on Genesis!  What a joy to study the story of Creation with you!  Before we begin, please pray with me.  "Father, thank you for the opportunity to study Your Word with my friends.  I humbly ask that each person who pauses to read from the Bible today will be blessed by Your Words.  In Jesus name I pray, Amen."
Today we begin with Genesis Chapter 1.  Please take the time to read it in its entirety before reading any further.
The first two verses of this chapter give us a vivid picture of two completely different things.  First and foremost, God is present.  In this verse, the Hebrew word for God is Elohim.  The first name for God mentioned in the Bible, Elohim means, "Strong one, mighty leader, supreme Deity."
Secondly, we see chaos.  Formless, empty darkness is the essence of a nightmare.  It stands in sharp contrast to the powerful Spirit of God who is about to change everything.   Think just for a moment with me about the chaotic, nightmarish things in your life and remember the mighty God who stands capable of bringing order and beauty to your world.
Day by day God begins to unfold an amazing plan of creation.  Step by step he systematically creates space for us and calls it good.  First He flooded light into the chaos, and separated it from the darkness.  Then He separated the waters and placed air safely in between the layers of water.  Then He separated the water and let dry land appear.  Each phase provided ahead of time for the creatures that would need light to see, darkness to rest, air to breathe, water to drink and land to stand on.  Notice there was water above the sky as well.  This water protected the atmosphere and created a greenhouse effect allowing things to grow well and long.  As we continue in Genesis we will see this water is why man lived so long, but it is also how the flood came to be.
After the basics were in place, God began to fill each part in the same order He created them.  Going back to the first step of creating light, He now filled both the light and the darkness with the governing lights of the sun, moon and stars.  Moving to the next step of creating air between the waters, He now added life to each with birds and fish.  Finally, on day six, He added animals and man to the created land.
Notice that He gave man and animals only plants to eat in verse 30.  At this time, there was no death of any kind.  What an amazing place God created especially for us!  It gives me a beautiful picture of the world to come!
Hope has entered the world before we even came into existence.  Our powerful, supreme God is present and He is good, bringing order to chaos.
As we conclude our study today, please ponder these questions.  I would love for you to get involved with us by posting your answers in the comments below, either on my website or on Facebook, as you prefer.  Most importantly, however, is the time you spend prayerfully considering the words of God from Genesis 1 for yourself today.
Questions for thought:
How have you seen God provide for your needs ahead of time? What are some ways to express your thankfulness for his provision?
Faith believes God is present and good. Pause and ask God for more faith in your life, and the ability to sense His presence.
---
Comments