Campfires and Believers
September 8, 2020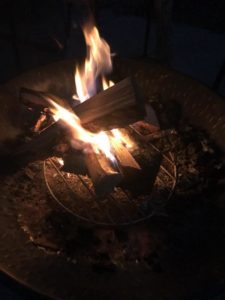 Nothing warms my heart like campfires.
As the calendar turns to September, I'm looking forward to cool nights and warm campfires. I absolutely love to build a fire. I always challenge myself to successfully start it with only one match. Starting with a bit of paper or dry tree bark, I add some kindling, and continually feed it until it slowly builds and consumes the firewood. Some of my friends say I could do it much quicker with a little fire starter. True. LOL. But that would take the fun out of it.
For the first couple of years after the accident, I lived in a house with a fireplace. Every night I'd build a fire and watch it burn. In the quiet stillness by the crackling fire, God whispered many things to me. Often, he used the fire itself as an illustration. This week he reminded me of one of those lessons.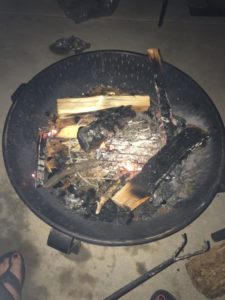 Try as you might, it's nearly impossible to light only one log on fire and keep it burning. It takes two – and three is much preferred. With three logs crisscrossed, or leaning against each other, the fire will stay warm for a long time. If you decide you want to go to bed, you can roll them to opposite sides of the fire pit and the fire will die out before long. They simply need each other to stay ablaze.
Believers have a lot in common with campfires.
We need each other.
You can study the Bible for yourself for a while, but it will be difficult to stay with it in the long run unless you are also studying it with a group of people. With others, your faith can stay much stronger. And your understanding of the scriptures will grow when you sharpen your skills with another.
There's good reason why God said, "Let us not give up meeting together, as some are in the habit of doing, but let us encourage one another – and all the more as you see the Day approaching." (Hebrews 10:25)
I know we have had to stay separated for a few months because of the pandemic. I've been thankful for the many technological options available to stay connected to each other and worship "together." But as your area becomes able, please take the opportunity to get together to study the Bible and worship. It will refresh your soul. Don't let the weeks of not attending church tempt you to stay watching online even after you are free to return. Where there are still restrictions, gather a small group of friends in your home. Open the Bible. Ask questions. See if you can find the answers together. Pray for each other.
I've been pondering how I can help you do that.
My game plan is to prepare a Bible study for you to do in your home with a few friends. With the aid of Zoom connecting all the small groups together, I'll lead the study as a large group. Then I'll give you questions to discuss with the people in your home. Please pray for me as I work out the logistics and prepare the study. I hope to also include an option for those who live alone and cannot gather with anyone due to health restrictions.
If you would like to be a part of this Bible study, or have questions, please email me. 
May the warmth of God's love fill you with peace.
---
Comments