Beauty from Devastation
April 7, 2022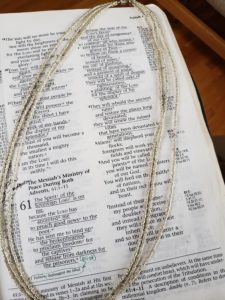 I received an unexpected small package in the mail this week. The return address told me that a sweet, thoughtful friend had been thinking about me. I wondered what could be in the bulky envelope.
I looked inside and found a simply beautiful necklace. Smiling, I looked at the tag. When I read it, my heart instantly ached – and yet paused in amazement:
"In Ethiopia, we partner with Artisan Businesses bringing hope and dignified work to women emerging from vulnerable situations. The Artisans utilize recycled metal melted down from artillery shells to transform objects of violence into objects of beauty." (NoondayCollection.com)
Wow.
Immediately, war-torn images filled my mind. Certainly, our media is filled with them today from another terrible war. I truly cannot imagine enduring a war in my own land. Undoubtedly the fear and sorrow in my imagination doesn't even cast a shadow on the reality. The devastation and loss of war shattered these women's lives and dreams.
But these Ethiopian women were able to begin again. How?
They gathered the very objects which brought them devastation. Then they made them into something useful again – even beautiful.
Violence. Hatred. Pain. . . turned into. . . Beauty. Love. Joy.
That's what our God can do.
He takes our broken, painful stories and makes them into something beautiful. Our lives begin afresh. Then, as a result, we draw others to the love of God.
It doesn't take my imagination to picture that kind of re-creation. I've experienced it. He took my devastated life and broken heart and breathed life back into me. So He could use my story to reach the hearts of others with his love.
I'm confident He would love to do the same for you.
The Messiah said, "The Spirit of the Sovereign Lord is on me, because the Lord has anointed me to preach good news to the poor. He has sent me to bind up the brokenhearted, to proclaim freedom for the captives and release from darkness for the prisoners, to proclaim the year of the Lord's favor and the day of vengeance of our God, to comfort all who mourn, and provide for those who grieve in Zion – to bestow on them a crown of beauty instead of ashes, the oil of gladness instead of mourning and a garment of praise instead of a spirit of despair. They will be called oaks of righteousness, a planting of the Lord for the display of his splendor. They will rebuild the ancient ruins and restore the places long devastated; they will renew the ruined cities that have been devastated for generations." Isaiah 61:1-4
Wow. What a God we serve!
Let him restore what has been devastated within you. Without a doubt, He will bring beauty from your ashes.
He loves you.
---
Comments