Be Brave
January 17, 2019
Often, people ask me how they can help a friend who is going through a tragedy or loss. There are literally thousands of ways, but here's my best bottom-line advice: Be brave. Do exactly whatever God urges you to do, no matter how unusual it seems.
Recently, a young woman did that for me. Let me tell you the story.
Right before Christmas, I received a Facebook friend request from a person I didn't recognize. I clicked on her page and looked to see where she lives. That didn't help. I often receive new requests after I've spoken at an event or a retreat, but I hadn't been near her. Then I looked at our mutual friends. That gave me a clue. All of our mutual friends were friends of my children. So, I messaged one of them and discovered that yes, she was a classmate of my son, Jayden.
It's always such a joy to connect to someone who knew my son. So, I gladly accepted her friendship.
It made my day!
But that was only the beginning of God's idea. Almost immediately I received a message in return:
I was driving yesterday and felt the Lord put you on my heart. I know this is Him loving on you a little extra during the Christmas season! Jayden sat behind me in math class in 6th grade I remember him being so funny. I'd like to send you a Christmas gift on his behalf if that's okay with you!
My knees buckled under me as I read her words. Before I hit the chair, the tears were already flowing down my cheeks. Speechless, my mind struggled to wrap itself around the entire story –
She remembered my son even though it's been 14 years. They were only 11 years old in the 6th grade. Who remembers a kid behind them in math class in the 6th grade? But she didn't just remember, no, she bothered to find me! How did she find me? How did she even know my name . . . and she wants to give me something?  A gift. From Jayden. Of course, I want it. What in the world will it be? How would she know what to do? Wait, you know this Lora – this is God's doing.
The days ticked by and I waited.
One night I remembered I hadn't been to the mailbox yet. So, I pulled on my shoes and walked out into the darkness to retrieve the mail.
There it was. I stared at it awhile, almost afraid to open it.  Then I gingerly tore open the top of the envelope. Inside, I found a card from the young lady. She said she had been waiting for God to tell her what to say. Under the card, lay a little box. Inside the box was a simple necklace with a simple, yet profound message.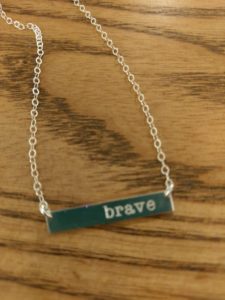 Brave.
That's how I've always pictured Jayden in heaven. A warrior, battling for me, for all of us, in the power of God, until the enemy is ultimately and completely defeated. He has no need to be afraid, because he knows the victory is sure.
I've battled fear as I've walked through this process of publishing my book from the first words on the paper until now. Just this week I said to someone, "We shall see what doors God opens, and I'll try my best to be brave"
And to another:
"I'm game for whatever doors God opens. Even if it terrifies me. lol"
Brave.
The strong message from heaven reverberated through me. I need to be brave. God wants me to be brave. He is labeling me with a necklace that says brave. Wow.
I messaged my new friend back, and then, just in case I had any question at all that this message was from God, she responded with this:
God is so good and so faithful. He's singing over you, Lora! He is right with you – let Heaven come to earth & walk through the victory Jayden has.
She had no idea that God sang over me the night of the accident. Or that the name of my book is "Song of a Wounded Heart." She didn't know. So when she said it, I knew beyond a shadow of a doubt that this was God's word to me.
Be brave.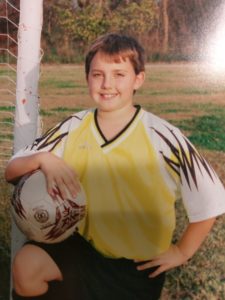 So, my friends, when God urges you to do something, or say something to someone who is grieving, or struggling, or . . . Be brave, and do it. Trust the God who is giving you the message. He knows your friend. He knows exactly what they need. Let Him use you.
Thank you Jen. For being brave.
Thank you Jayden, for being my brave warrior. I love you so much.
Above all, thank you God, for this precious message. Please help me be brave.
---
Comments