Amazing Grace
October 25, 2016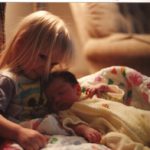 I love to remember.  This weekend, as I sat outside enjoying God's beautiful day, I asked Him to help me remember a story about Janessa.  He overwhelmingly answered my prayer.    As I enjoyed the story replaying in my mind's eye, I remembered a special book at home where I had written down some of those little girl stories.  So when I returned home, I looked this one up.  I'd like to share it with you today.
She was three years old.  We were preparing to go to church for an evening Bible study class.
"Janessa, we're going to Parenting by Grace tonight."
"That's like Amazing Grace, Mom.  It makes the whole world feel better when the sadness and the badness comes."
Yes Janessa.
It's what kept us going when bad things happened to us when you were a little girl.  God took us through some very dark times.  Your simple faith in Him was refreshing, even then.
It's what gave you hope when you started having seizures as a preteen.  You had hope because you believed the words you read and underlined in your Bible in Matthew 4:24. "News about him spread all over Syria, and people brought to him all who were ill with various diseases…those having seizures…. and he healed them."  We were afraid, but you were not.  You were right.  He healed you.
It's what gave you courage to share your story and see your friends believe in God.
It's the call you answered when God said, "Sing for me, Janessa."  None of us knew that you would see the fulfillment of that call in heaven just a few months later.
It's the hope I lean into now, even though sadness has come.  Your faith continues to challenge me to have courage to share our story, and follow my call.
Amazing  Grace.  It's all we need when the sadness and the badness comes.  Thank you my daughter, for believing.  I'm looking forward to seeing you again.  We'll sing it together.
---
Comments