A Reminder from my J. L.
August 11, 2018
Sometimes, I just need a reminder…
My Mom taught me how to embroider when I was a girl. She enjoyed making beautiful things for her home, and of course I wanted to do everything Mom did. So, we picked out a small kit from the store, and she taught me how to make the stitches. It was fun to watch a picture come to life on the canvas.
As I grew to adulthood, I always had some sort of project going but usually lacked the stick-to-itiveness to finish the projects.
One day, my husband, J. L., found one of those projects. The picture was a baby sitting in a bathtub. My intentions were to finish it before Janessa was born, but it only had a few lines of cross stitch done and I already held another baby in my arms.
J. looked at the picture on the kit, and then looked at me and said, "Can I finish this?"
I cocked my head to one side and gave him a crooked grin. "Sure?"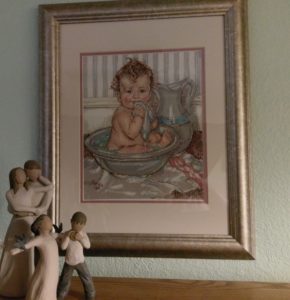 Over the next few weeks, I often sneaked a look at his progress. Meticulous tiny stitches began to appear row by row. The back looked as good as the front, with each color change carefully and completely hidden.
Before long, he was the one perusing the stitchery isles at Hobby Lobby. His projects became more complex and more beautiful each time. I never cross stitched again! LOL
Now, his work is hung in a place of honor above my dresser.
As I sit in my study chair in the living room today,
I'm working on lots of details for the upcoming release of my life story in book form, Song of a Wounded Heart. I have too much to do, and my mind reels with the decisions to be made. That's when I noticed one of my favorite cross stitch pieces from J. It's probably not his best work, and certainly not his most complex, but it represents to me how my husband lived his life.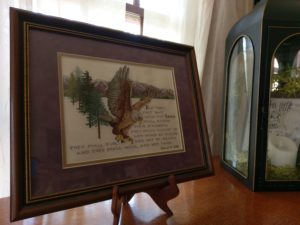 "But they that wait upon the Lord shall renew their strength, they shall mount up with wings as eagles; they shall run, and not be weary; and they shall walk, and not faint."
Isaiah 40:31
I looked up this verse in the Hebrew (www.biblehub.com). One of the definitions given for "wait" is "to look eagerly."  We often define waiting as negative – waiting in line, or waiting for a response, or waiting for test results – or for a book to be released. Waiting can be daunting and frustrating. But this verse encourages us to wait eagerly. Perhaps that's why some versions translate it as hope.
So today, when deadlines for the book keep me hopping, and I feel unsure about how to make all of the decisions in front of me, I will choose to wait eagerly upon the Lord. There I will find the strength to wait without becoming weary. With God's hope in my veins, I can soar above my fears and allow Him to work out all of the details.
Thanks J., for the reminder.
---
Comments