Rekindle the Fire
October 22, 2021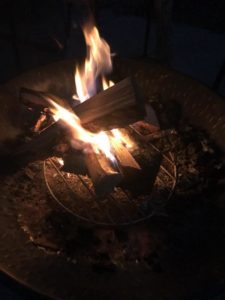 Last weekend I enjoyed a delightful reunion with a group of people I treasure. We stayed at an Airbnb with an outdoor pool – and a firepit. I LOVE a campfire, especially on a chilly October evening. So, of course, we kindled a fire every night and enjoyed its warmth. Someone dug a napkin out of the trashcan, sent the children to find small sticks, and with the help of a lighter, we began the slow process of going from a tiny flame to a fire capable of cooking our supper.
This morning in my devotional, I read Leviticus 6:12-13. "The fire on the altar must be kept burning; it must not go out. Every morning the priest is to add firewood and arrange the burnt offering on the fire and burn the fat of the fellowship offerings on it. The fire must be kept burning on the altar continuously; it must not go out."
It was an important job to tend the altar – the responsibility of the priest. That's because the flame represented God's presence to the people of Israel.
How easy it is to add a log to a hot bed of coals. In just a few moments, the flame reignites. But how difficult it is to build a fire by adding a log to cold ashes. Nothing happens at all. A new bed of kindling must be built – a source of fire must be reintroduced. The job of the priest was much easier, and the fire much brighter, if he tended to his job faithfully.
God no longer requires us to make animal sacrifices as part of our worship because Jesus sacrificed himself for us. Therefore, there's no longer a fire in our church that needs to be tended.
Or is there?
God teaches us in the New Testament that when we believe in Jesus – choose to live our lives in obedience to Him – we become priests who offer spiritual sacrifices to God. He builds a fire within us that offers light and warmth to the world around us which draws others to the love of God.
How do we build that fire?
God himself builds that fire when we offer Him our lives. He requires his children to bring our own kindling – a splintered, broken heart that recognizes our need for cleansing from sin. Jesus brings the spark of forgiveness, and the Holy Spirit brings the crackling flame to life. Before long, a warm fire invites long talks with our Creator, Redeemer, and friend.
But when we don't spend time there, the fire goes out.
Maybe it's time for us to have our own reunion – each of us personally with our God. Bring your kindling. He's been waiting there.
And tomorrow remember how much easier it is to add a log to a hot bed of coals….
Verses to study on this topic: I John 1:9; Psalm 51; Romans 12:1-2; Matthew 5:14-16; John 13:35; John 14:26; Hebrews 10:1-18; I Peter  2:4-5.
---
Comments