Lessons from a Clematis Vine
June 6, 2020
I don't know about you, but I've sure gotten a lot done around my yard this year – much more than I ever accomplish. Now I'm not saying I finished everything, mind you. I could completely fill another twelve weeks of self-quarantine with various yard (and house) projects. The crazy thing is that by this time next year, you won't be able to tell I did a thing. All the flower beds will be overgrown with baby trees and grapevine all over again. Outdoor work never goes away.
The work is important though, even if I have to do it all over again each season. If I don't do it, the weeds take over the beautiful things.
Like my clematis vine. . .
My mother had a clematis outside her bedroom window. I loved to see it in full bloom. Each year it grew bigger, healthier, and even more beautiful. So, I planted one for myself several years ago. It struggled to grow. In fact, I honestly thought it died. Then, last year, I saw a single purple bloom among the weeds along the fence. That's when I knew it was still there, quietly hiding behind my baby-tree-weeds. Thrilled, I cleaned out around it and waited to see what would happen.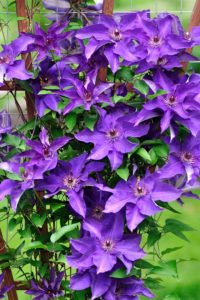 It touched my heart to see it blooming this year. Mom would be so proud! It's still small, but it had several big blooms on it. I wish I would have taken a picture of it while it was still in bloom, but here's one from the internet. Isn't it gorgeous? I think I want a whole bunch more.
Until I looked a little closer. . .
About the time the blooms began to fade, I looked a little closer at the plant. Right in the middle of the vine stood one of those pesky baby trees. It had been there all season apparently, maybe even since last year, because the vine was completely intertwined with the tree. The vine's tiny tendrils wrapped themselves around the tree, using it as a means to climb.
Disgusted, I decided to clip the tree off at the ground so it would die, and I could help the vine attach better to the small trellis already there behind it. Well, as you might expect, as soon as I clipped the tree, the vine completely fell over. It had never attached to the trellis at all, so nothing held it up when I clipped its tree.
It took some time, but I carefully unwrapped each strand of vine from the branches of the tiny tree. Then I wound them around the strength of the trellis, tying them in place with a piece of string. Now it can grow on something that won't outgrow and kill it.
What a perfect illustration. . .
As I worked, I thought about how perfectly this clematis vine illustrates people. We choose to cling to things that will hurt us in the end. Without paying attention, we find ourselves completely dependent before we realized what happened. When we wake up to the fact that we are caught in a losing situation and try to just cut ourselves away from it, we simply fall. But if someone will patiently help us reconnect to a good, solid source, then we can begin to bloom and succeed again.
God will happily do both things for us. He can disconnect us from the things which will hurt us. And He's patient enough to do the tedious work. When He's finished, we can rest in his solid strength, confident He will lead us the right way, and give us everything we need to grow and bloom.
Jesus said, "I am the true vine, and my Father is the gardener. He cuts off every branch in me that bears no fruit, while every branch that does bear fruit, he prunes so that it will be even more fruitful. . . Remain in me, as I also remain in you. No branch can bear fruit by itself; it must remain in the vine. Neither can you bear fruit unless you remain in me. I am the vine; you are the branches. If you remain in me and I in you, you will bear much fruit; apart from me you can do nothing."
---