Genesis 2 – God's Relationship with Man
February 12, 2019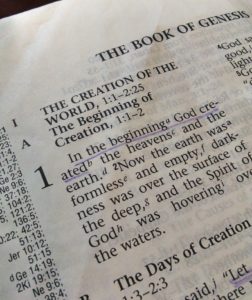 In the second chapter of Genesis, God begins His personal relationship with us.  Please pause and read the entire chapter.
"Lord, we are grateful for the life you have given us. Fill us again with the wonder of it today through your Word. In Jesus' name I pray, amen."
First, He began with man.  I wonder what it was like for the angels to watch God form a new creation.  Gathering dust with His fingertips, God molded it together to form a body.  As He formed the brain that would make us so completely different from all other creatures, He provided for sight, hearing, smell, taste and touch with intricate detail.    When everything was exactly the way He wanted it, He breathed his very own breath into man's nostrils, and Adam woke up.  A cheer must have erupted in heaven!
Everything was perfect.  God and man walked together in the garden.  God introduced Adam to the animals, and allowed him to name them.  He showed man all the delicious food growing out of the ground, and perhaps gave him bites to try.  I can imagine God's joy when He handed Adam a sweet orange to taste, or a crisp pecan.  Just like a child's wonder the first time he sees snow, Adam must have stood wide-eyed at all the beauty surrounding him.
There seemed to be something missing, however.  All the animals had mates, but Adam had none.  I don't know why God created man and woman one at a time, instead of together.  Perhaps He wanted Adam to see his need for woman.  Perhaps He simply wanted to walk with each of his children one-by-one.  Nevertheless, woman was created separately – and differently – from Adam.  Even though God was completely capable of making another person from the dust, this time He chose to start with a piece from Adam.  Forever connecting them together, God took a rib from Adam's side, closed back up the wound, and fashioned his partner for life.
It's no small thing that God started this chapter by sharing with us His own personal name.  In verse 4, we see His name:  LORD God.  In the Hebrew, this word is YHWH (pronounced Yahweh).  It is God's proper name…the name He used to introduce Himself.  And thus, God's relationship with man and woman began.
Every good book has some foreshadowing to the events to come, and the Bible is no exception.  This chapter tells us about two trees in the middle of the garden:  the tree of life and the tree of the knowledge of good and evil.  Adam was instructed not to eat from the second tree, but he could eat from all of the rest of the trees as much as he wanted – including the tree of life.
Those two trees will be very important in the next chapter, but for now, I want to look forward to the very end of the story.  In the last chapter of the Bible, Revelation 22:1-5, God tells us about heaven.  There, in front of God's throne, is the tree of life.  Someday I will hear God introduce Himself as Yahweh, and I will taste the delicious fruit of the tree of life that He offers.  Because God is still present and He is still good, I will see Him face to face.
Questions for thought:
Why do you think God created Eve from Adam instead of only from the dust, as he did Adam?
What do you think it will it be like to see God face to face?
Have you ever considered having a personal relationship with your Creator?
---
Comments