Pleasant Prairie Church of God
Mar 15, 2020, Satanta, KS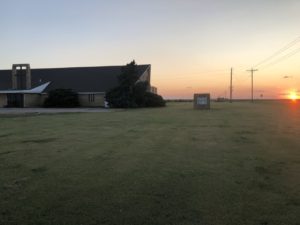 What a joy to return to Pleasant Prairie Church of God! The church sets in the middle of the beautiful scenery of southwest Kansas. Can you tell I'm born and raised in Southwest Kansas? Yes, it is a beautiful place to me. The sunsets, the stars, the big blue sky, open prairie and waving grain….it's the beauty of home to me. But even more than the beauty of the place, is the beauty of the people. Openhearted, sincerely smiling and genuine friendship describes the people of this small country church.
I hope you are planning to attend Bible study and worship this coming Sunday in a church near you. It will fill your heart with peace and hope, and give you the energy for the coming week.
But if you don't have a place you normally attend, then come join me a Pleasant Prairie Church of God at 503 Rd. EE, Satanta, KS!  We'll open the word of God together.