Falls Creek Youth Camp – This event was cancelled due to our health crisis
Jul 20, 2020 - Jul 25, 2020, Davis, OK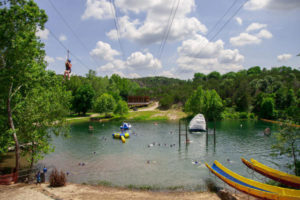 I'm delighted to join Elk River Baptist Church and Lake Center Baptist Church for their week of youth camp at Falls Creek, near Davis, Oklahoma. I'll be leading their cabin's evening Bible study throughout the week.
The Lord opens a wide variety of opportunities for me to share the Word of God. Since most of my ministry revolves around adults, I'm excited about spending some quality time with youth. Returning to Falls Creek will bring back many precious memories of great times with my own children and their friends at this amazing camp.
I probably won't be enjoying the zip line in this picture! LOL But I'll enjoy the beauty of God's creation, and hours of fun and great conversation with thousands of teenagers. Camp is a great place to seek God. I hope you and your children will attend camp this summer!