First Christian Women's Bible Study Retreat – This event will be rescheduled in the spring, following the present health crisis
Oct 10, 2020, Liberal, KS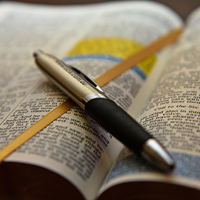 First Christian Church presents:
Ladies Bible Retreat
Spring 2021
9:00 – 4:00
In February 2020, First Christian hosted their very first Women's Bible study retreat. It was a day set aside time to spend with other women, studying the story of Peter, and the development of his bold faith. We had such a grand time, that they have already planned another!  It was scheduled for October 2020, but, as you well know, our country has struggled with a health crisis throughout the year. With great sorrow, we decided to postpone our 2nd Bible study retreat until next spring.
I hope you will come join us for a wonderful day of exploring the Bible together. The theme is yet to be established. Stay tuned here for updates!
Don't worry, you don't need to know anything about the Bible ahead of time. Just come with an open heart and mind. Bring a pen and a notebook, and your Bible (in any format).